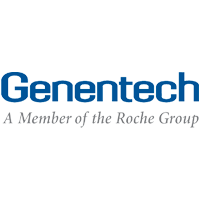 Partner Level

Company Headquarters

1 DNA Way, South San Francisco, CA 94080

Contact Name

Tony Honingford

Phone

650-225-1000

Website
Overview
Founded more than 40 years ago, Genentech is a leading biotechnology company that discovers, develops, manufactures and commercializes medicines to treat patients with serious and life-threatening medical conditions. The company, a member of the Roche Group, has headquarters in South San Francisco, California. For additional information about the company, please visit www.gene.com.
About Genentech in Cancer Immunotherapy
Genentech has been developing medicines to redefine treatment in oncology for more than 35 years, and today, realizing the full potential of cancer immunotherapy is a major area of focus. With more than 20 immunotherapy molecules in development, Genentech is investigating the potential benefits of immunotherapy alone, and in combination with various chemotherapies, targeted therapies and other immunotherapies with the goal of providing each person with a treatment tailored to harness their own unique immune system.
For more information, visit http://www.gene.com/cancer-immunotherapy.
About Genentech in Personalized Healthcare
For more than 20 years, Genentech has helped lay the scientific groundwork for personalized healthcare with treatments that target the underlying biology of cancer and other diseases. Now, with profound changes in data and technology transforming how medicines are discovered, developed and delivered to patients, we are uniquely positioned to extend this approach across all of healthcare. With our ability to integrate research and development, personalized diagnosis, disease monitoring and treatment access, we are advancing personalized healthcare for every aspect of the patient experience.
Our strategy is rooted in groundbreaking science that can accelerate drug discovery and development. We are also leveraging technologies such as real-world datasets, artificial intelligence, genomic profiling and digital health across our therapeutic portfolio, with an initial emphasis on oncology, neurology, ophthalmology and diagnostics. Through collaborations with academic institutions, industry partners, patients, physicians and regulatory agencies, our goal is to dramatically improve the performance of the entire healthcare ecosystem and the lives of every patient.
Patient Assistance Programs
About Genentech Access Solutions
Access Solutions is part of Genentech's commitment to helping people access the Genentech medicines they are prescribed, regardless of their ability to pay. The team of in-house specialists at Access Solutions is dedicated to helping people navigate the access and reimbursement process, and to providing assistance to eligible patients in the United States who are uninsured or cannot afford the out-of-pocket costs for their medicine. To date, the team has helped more than 2 million patients access the medicines they need.
Please contact Access Solutions (866) 4ACCESS / (866) 422-2377 or visit this page for more information.
About Genentech Oncology Co-Pay Card Assistance Program
Genentech co-pay programs provide financial assistance to eligible commercially insured patients to help with their co-pays, co-insurance or other out-of-pocket (OOP) costs. Patients who qualify can receive up to $25,000 in assistance per 12-month period. They pay as little as $5 per treatment co-pay or co-insurance until the annual limit is reached.
Our Products
Misc