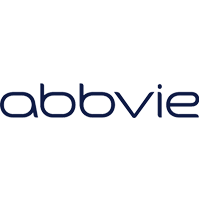 Partner Level

Company Headquarters

1 North Waukegan Road, ABV-1, North Chicago, IL 60064

Website
At AbbVie, we strive to discover and develop medicines that deliver transformational improvements in cancer treatment by uniquely combining our deep knowledge in core areas of biology with cutting-edge technologies, and by working together with our partners – scientists, clinical experts, industry peers, advocates, and patients. We remain focused on delivering these transformative advances in treatment across some of the most debilitating and widespread cancers. We are also committed to exploring solutions to help patients obtain access to our cancer medicines. AbbVie's oncology portfolio now consists of marketed medicines and a pipeline containing multiple new molecules being evaluated worldwide in more than 300 clinical trials and more than 20 different tumor types. For more information, please visit http://www.abbvie.com/oncology.
About AbbVie
AbbVie is a global, research and development-based biopharmaceutical company committed to developing innovative advanced therapies for some of the world's most complex and critical conditions. The company's mission is to use its expertise, dedicated people and unique approach to innovation to markedly improve treatments across four primary therapeutic areas: immunology, oncology, virology and neuroscience. In more than 75 countries, AbbVie employees are working every day to advance health solutions for people around the world. For more information about AbbVie, please visit us at www.abbvie.com. Follow @abbvie on Twitter, Facebook, LinkedIn or Instagram.
Clinical Trials